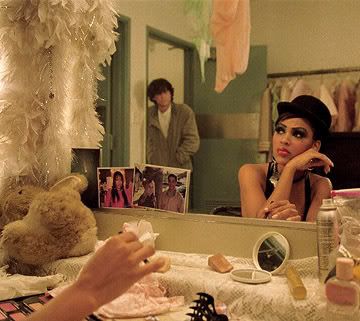 It doesn't take a highly perceptive person to see that I'm obsessed with Hollywood. By that, I don't mean that I read tabloids, follow Nicole Richie, or anything like that - I genuinely
care
about good films and fresh, new talent.
I grew up watching actors like
Leo DiCaprio
and
Reese Witherspoon
blossom from indie darlings into box-office players and critical successes. Now I get to see the same thing happen to kids I've been familiar with since their days on the Disney lot -- the
Joseph Gordon-Levitts
, the
Shia LaBeoufs
, and the
Lindsay Lohans
(okay, maybe not the Lindsay Lohans,
snicker
). It warms my heart to know that should Johnny Depp be off in Barbados making
Pirates of the Caribbean XXV
,
Ryan Gosling
can just take over. I'm not one for living in the past, and I'm getting very tired of actors playing their personas to death (I'm looking at you, Al Pacino). It's time for a new class to take over.
Thankfully, it seems like a promising bunch.
ABBIE CORNISH


I only know Abbie from one film,
Candy
, an Aussie indie movie that was released last year. Still, from that one project, I can tell she's got a long career ahead of her.
In
Candy
, Abbie plays the title role, an innocent girl-turned-heroin addict. She was able to hold her own opposite
Heath Ledger
, a much more seasoned actor who, though still a spring chicken himself, has starred in big Hollywood films and even was nominated for a Best Actor Academy Award in 2006. Abbie is still an unknown, and perhaps is more famous not for her acting but for being the supposed "other woman" in the
Ryan Phillippe-Reese Witherspoon
divorce.
I'm curious to see the movie she did with Phillippe; I hope it's not some trite Hollywood bullshit, because I know she's capable of so much more. After all, she hails from the land that gave us
Nicole Kidman
and
Geoffrey Rush
-- can you blame me for having high expectations?
CHECK HER OUT IF YOU LIKE:
Naomi Watts
ALISON LOHMAN


Alison is one of those actresses who needs to be extremely careful -- she looks perpetually 14 (she's 27), and so she is at risk for being typecast in those Lolita-esque roles. I've had my eye on her since her breakout turn in
White Oleander
, and was simply dazzled by the chops she displayed in
Matchstick Men
and
Big Fish
.
These days, Alison's ingenue buzz has died down, and she has since starred in some mediocre projects like the G-rated
Flicka
and some horrible movie called
Delirious
(I don't know why it was such a bomb, considering it has two of my favorite actors, Steve Buscemi and Michael Pitt, in it).
Still, I think Alison is on the cusp of a "comeback." She has the talent, and she certainly has the look: she's just quirky enough to relate to, and beautiful enough to be in major blockbusters. As they say in
Entourage
, when girls want to be you and guys want to fuck you, you're headed for the big-time.
CHECK HER OUT IF YOU LIKE:
Winona Ryder

AMANDA SEYFRIED
You're probably asking yourself, "What's the dumb girl from
Mean Girls
doing on Natalie's list?" but I can explain: I've never seen Amanda on
Veronica Mars
, and have only checked out a handful of her films. However, she is AWESOME on
Big Love
: just the right amount of coy and tender. I think she has great instincts, and has a knack for black comedy. I don't think she makes a great leading lady, but she is certainly a wonderful character actress.
CHECK HER OUT IF YOU LIKE:
Judy Greer
AMERICA FERRERA
I love America! I've been following her career since the great HBO movie,
Real Women Have Curves
, and I'm so proud that she's found success in the TV world as the lovable ugly duckling in
Ugly Betty
. The joke is that neither Betty nor America is ugly: they're both compassionate, earnest without being annoying, and have a great sense of humor. Perhaps, however, Amanda is just a TAD better at the whole fashion thing:
America is that rare Hollywood actress who focuses not on partying, but her work. I love how intelligent and level-headed she seems, and in a time when most stars are competing to fit into that size 0 ball gown, America is proud of her body. She doesn't hide her curves, she
embraces
them. Real women have curves, indeed.
CHECK HER OUT IF YOU LIKE:
Drew Barrymore
AMY ADAMS
You know those actresses that you see in every movie, but you don't know their names? That was Amy Adams for me. I thought she was hilarious as the bimbo cheerleader in
Drop Dead Gorgeous
and charming as Brenda, the sweet nurse Leo DiCaprio seduces in Steven Spielberg's
Catch Me If You Can
. But I still had no fucking idea who she was!
This, of course, changed when she was nominated for an Oscar for her role in
Junebug
, a sweet film about the importance of family. Amy was so winning, so endearing, and so fucking funny that there was no way I'd leave the movie theater without remembering her name for years to come.
Now she's in a new Disney movie called
Enchanted
that looks pretty fantastic. This girl is going places.
CHECK HER OUT IF YOU LIKE:
Reese Witherspoon
ANNA PAQUIN
I think everybody is familiar with Anna, the girl who won an Oscar at ten years old, yadda yadda yadda. Still, I don't think people know how ferocious she really is. When she's onscreen, she commands it, and can play vulnerability extremely well. She's also a wonderful theater actress with an intensity that just won't quit.
Due to her penchant for weird projects, I don't think she'll ever reach a Julia Roberts-level of stardom, but I'm very excited for what she has in store.
CHECK HER OUT IF YOU LIKE:
Helena Bonham Carter
CAMILLA BELLE


I have to confess that I adored Camilla as a kid. She was in a few of my favorite movies -
A Little Princess
,
Jurassic Park: The Lost World
,
Rip Girls
(ahem) - and was adorable to boot. Now she's a beautiful young lady with great style, a thriving career, and... questionable acting talent. I saw
When A Stranger Calls
and couldn't believe how bad she was.
There's one movie, however, that keeps me from labeling Camilla a "flash in the pan," and that film is
The Ballad of Jack and Rose
. No, it's not the sequel to
Titanic
, but rather a father-daughter story co-starring Daniel Day-Lewis. Camilla was more than competent in this role, and I'm willing to overlook her turn in horror schlock if she can crank out another film as lovely and smart as this. Come on, Camilla, I know you have it in you!
CHECK HER OUT IF YOU LIKE:
Katie Holmes
CATALINA SANDINO MORENO


I have a soft spot for Colombians, and Catalina is no exception. Baring a striking resemblance to the South American crooner Shakira, Catalina is a natural beauty with an effortless acting style.
When I saw the 2004 film
Maria Full of Grace
, I was amazed that a first-time actress could knock out such a flawless performance. I laughed, I cried, I cowered in terror... but mostly, I was just so impressed. Now, Catalina is carving out quite a career for herself, and I hope she can resist the allure of mainstream Hollywood (tsk, tsk, Diego Luna) and do equally worthy projects.
CHECK HER OUT IF YOU LIKE:
Penelope Cruz
ELLEN PAGE


True story: I had no clue who this girl was a few weeks ago. I'm not familiar with the
X-Men
series, I'm not fluent in Canadian exports, and I don't touch movies with characters named Kitty Pryde in them unless they carry the stamp of John Waters. However, I just caught
Hard Candy
, and was spellbound by this little heavyweight of an actress.
Run, don't walk, to the video store to rent this. It's a fast-paced thriller that's smart and not sleazy, and very reminiscent of Hitchcock at his best. The performances are great, and little Ellen is a complete knock-out in every sense of the word. GO.
CHECK HER OUT IF YOU LIKE:
Natalie Portman
JENA MALONE


Jena is one of those girls who, if I ever met her in real life, I'd probably despise, but I cannot deny that the girl is a talented actress. She's been on my radar since this little flick:
... and we all know how much I LOVE that movie.
Since then, Jena has been in mostly off-kilter fare like
Donnie Darko
and
Saved!
She obviously has a gift for dark humor, and can play the angsty, fucked-up girl very well. Sometimes she's a bit TOO hipster for my tastes, but as long as I don't run into her at MisShapes, we're good.
CHECK HER OUT IF YOU LIKE:
Chloe Sevigny
KELLI GARNER
So much love for Kelli! She's in one of my favorite movies,
Bully
, and even made that hipster piece-of-shit movie,
Thumbsucker
, watchable. A versatile actress, it surprised me to know she was in Martin Scorsese's
The Aviator
for ten seconds:
She plays that girl, Faith, who goes psycho when she sees Howard Hughes (DiCaprio) out to dinner with Ava Gardner (Kate Beckinsale). She can cry on cue, she's funny, she's loopy... I'm sold.
CHECK HER OUT IF YOU LIKE:
(a less annoying and less haggard) Cameron Diaz
KRISTEN STEWART
I'm kinda on the fence about Kristen. I want to like her, because she rocked my world as Jodie Foster's daughter in
Panic Room
, but at the same time, she is kind of annoying and takes roles not even fit for Rachel Bilson (
In the Land of Women
, opposite Seth Cohen, a.k.a. Adam Brody).
Is she gonna sell out and disappoint us later on? Kristen, you could be an Ellen Page, so don't settle for being a Mischa Barton.
CHECK HER OUT IF YOU LIKE:
Kirsten Dunst
NIKKI REED


Nikki, like Alison Lohman, is also on thin ice: she plays the slutty scumbag a
little
too well, if ya ask me. Typecast alert! Never mind that the girl is only 19; she has the tendency to always take the role that calls for "heavy petting." You know the type.
I, along with half of the world, first noticed Nikki in
Thirteen
, a film which she co-wrote as well as starred in. In that film, she played Evie, the Veronica to
Evan Rachel Wood's
Betty. I thought she was a feisty vixen, and she obviously had already experienced some of the things she was doing onscreen. Still, she got away with it because she had smarts and sass to spare.
Since her feature-film debut, Nikki has played a bad girl in
Mini's First Time
, a bad girl in
Cherry Crush
, a bad girl on
The OC
, and a semi-bad girl in
The Lords of Dogtown
(also helmed by
Thirteen
director, Catherine Hardwicke). Noticing a theme here?
Nikki has also been surrounding herself with questionable people (to say the least). First ,she got caught hitching a ride with newly-single Ryan Phillippe (who's, like, 33), then she was shamelessly making out with D-lister DJ Qualls, and then she was partying with Lindsay "I Never Make It a Blockbuster Night" Lohan. I know you credit yourself with being a street-smart girl, Miss Reed, but even a bad-ass has got to have some standards!
CHECK HER OUT IF YOU LIKE:
Angelina Jolie
OLIVIA WILDE


Just because you were on
The OC
doesn't mean your career is automatically over -- just look at Olivia Wilde. Sure, she hasn't been in a great movie yet, but she's got potential. She was one of the highlights of
Alpha Dog
, and she was brilliant in the short-lived TV show
The Black Donnellys
. Aside from being strikingly gorgeous, she has the makings of an actress who can do both drama and comedy equally well, without resorting to the "show my boobs and lower my voice" tactics of
Scarlett Johansson
.
If worst comes to worst, she can always live off her dog,
Paco
, who was recently selected as the official Old Navy spokesdog! (Not even kidding.)
CHECK HER OUT IF YOU LIKE:
Michelle Pfeiffer
RACHEL McADAMS
You knew she was coming! In 2005, I thought I was going to die from an overload of Rachel McAdams Mania. She was everywhere, and did a Jude Law-esque thing by starring in, like, three major movies in the same year. I mean, who does that? Suddenly, every director wanted Rachel to play "the girlfriend" or "the love interest" in their movie, and what did she do?
She stayed the fuck away.
Expect Rachel to have a major comeback at the end of this year, as well as in early 2008. She's armed and ready with good projects, and I'm proud of her for not milking her ingenue-ness. It just keeps her more mysterious and more interesting. Take note,
Hilary Duff
!
CHECK HER OUT IF YOU LIKE:
Kate Hudson mixed with the best of Julia Roberts
ROMOLA GARAI


This chick has "English rose" written all over her. After making a splash in small-budgeted period films and
Dirty Dancing 2: Havana Nights
, Romola ditched the
Anne Hathaway
"princess path" by starring in a few eyebrow-raising indies, including one about the late actor River Phoenix.
Blessed with a winning smile, sassy attitude, and effortless charm, Romola is an actress to watch. Something tells me she's not gonna take the easy way.
CHECK HER OUT IF YOU LIKE:
Kate Winslet
THORA BIRCH
I decided to end the first installment of this post with a whole lot of awesome. Thora is a childhood fave: I loved her in
The Purple People Eater
,
Hocus Pocus
,
Now and Then
... all the way up to
American Beauty
and
Ghost World
.
In
Ghost World
, Thora Birch showed ScarJo who's boss: whereas Scarlett was (and still is) the obvious sexpot, Thora was (and is) the unassuming beauty who has just a bit more to offer. I want Thora to step up and start taking the roles these less-capable actresses (
Keira Knightly
,
Mandy Moore
) are taking. She's still getting work, but the future can be so much brighter, you know? Till then, I'm filling the void by worshipping fellow weirdo
Christina Ricci
.
CHECK HER OUT IF YOU LIKE:
Parker Posey
LOOK OUT FOR PART TWO OF THIS POST, IN WHICH I PICK THE CREAM OF THE LEADING MEN CROP!