Bebe Buell and baby Liv Tyler.

Dudes and dudettes, I most definitely have food poisoning. I gobbled down some disease-carrying fettucini alfredo and my stomach is none too pleased. I've been throwing up a bit every hour on the hour. That's okay, however, because it gives me an excuse to put off my work (thinking = no fun) and look up celebrity photos!

First off, I'm sad I missed Britney Spears' "comeback" performance at House of Blues. I heard she lip-synced her way through the whole thing. I guess the Spears is back! I cannot wait till she releases her new CD. I think the public is fascinated with Brit because they secretly love her. Unlike Lindsay Lohan, who we just want to see crash and burn, I feel that people are wishing for Brit to get better. As messed up as she is, I believe she is a good person at heart. I hope she gets her shit together soon. And a Michael Jackson comeback would be awesome, as well. Just throwing that out there.

Now that it is officially spring in New York, I've been in such a great mood. I feel people are always nicer when the sun is out, and you feel like no matter how shitty things are going, tomorrow is going to come and things are gonna be alright. I've made a "Springtime" mixed CD that I listen to while running errands or just walking around. It has a lot of stuff by the Rolling Stones, the Byrds, and old Motown groups like the Shirelles and Martha Reeves and the Vandellas. I think that Motown music might just be my favorite kind, ever.

Along with general happiness comes endorphin-induced shopping trips. I've been wearing a lot of white lately; it's my new favorite color. You just feel so clean and ethereal wearing it. Like a true New Yorker, I love black, but lately white has been taking the cake. I'm on the hunt for a simple white dress with pockets. I'm going to Europe for the first time this summer and it'll be my European uniform. I need something light and airy, and I feel like this A.P.C. dress is perfect:




Kudos to the awesome girl behind Le Portillon for bringing it to my attention. I fell HARD.
Some more white dresses that I fancy: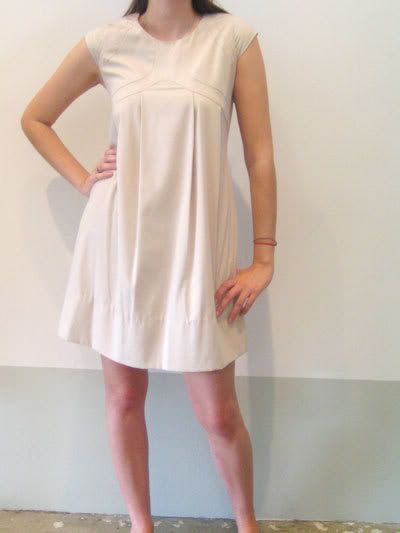 This one looks so comfortable and I love the detailing.
Seems like I'm not the only one who fell hard for the
Kate Moss for Top Shop
prom dress. Check out
Selma Blair
wearing it at a recent event: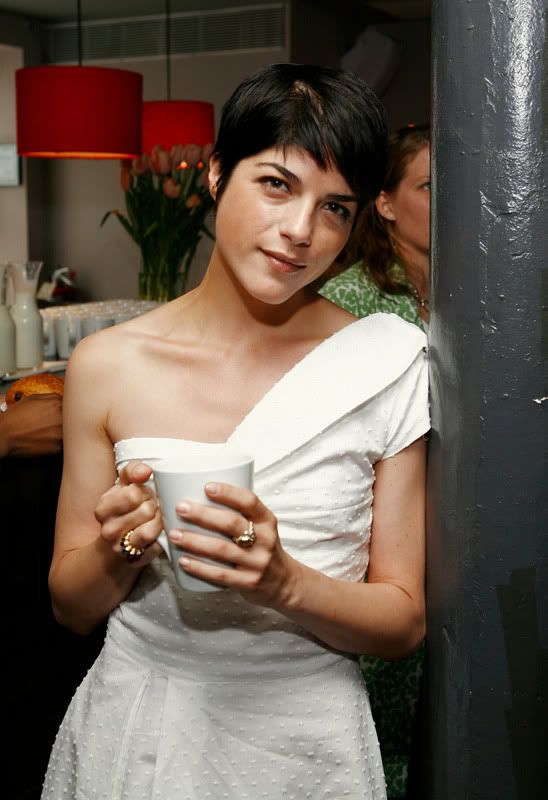 Cute! She can pull anything off.
I have a new fashion icon. Her name is
Clemence Posey
. I've never seen any of her work (
Harry Potter
? What?) but she's got great style:
She's definitely French. I like how simple everything is, yet it's so smart and put-together. I'm especially in love with her sandals!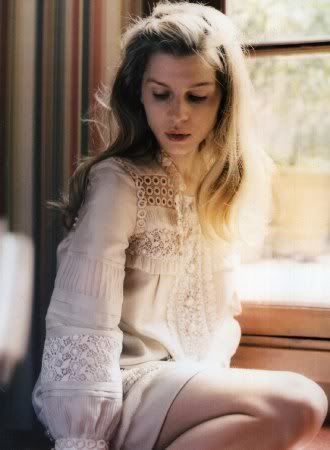 Also love this Victorian-looking shirt/dress. Gorgeous.
As is this little black APC dress: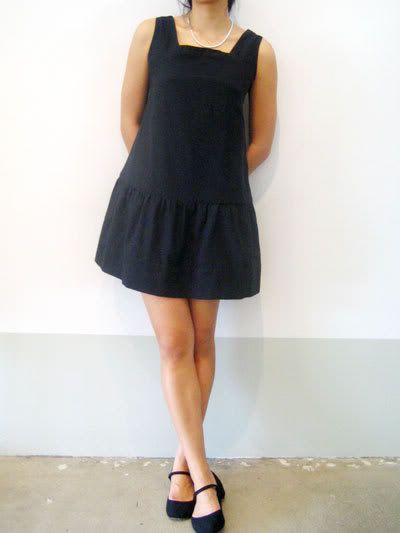 I guess you can say I lust after schoolgirl outfits. It's the Lolita in me.
Hey, whatever happened to
James King
? You know, the model? I loved when she hosted
House of Style
on MTV, and then she got really uncool and changed her name back to Jamie and is trying to act now. Why don't models just stay models?!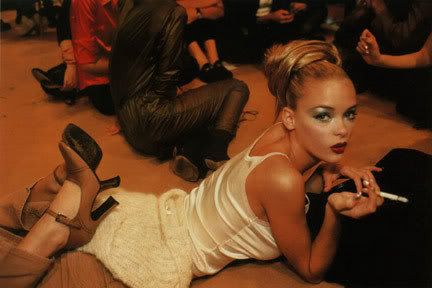 James started modeling when she was really young, like 14. By 16, she was dating photographer
Davide Sorrenti
and developing a drug habit. Davide passed away (drug overdose? heart attack?) and she quit drugs. Good for her. She was so gorgeous and so great at her job, and I'm glad she stopped before taking the heroin chic thing all too literally.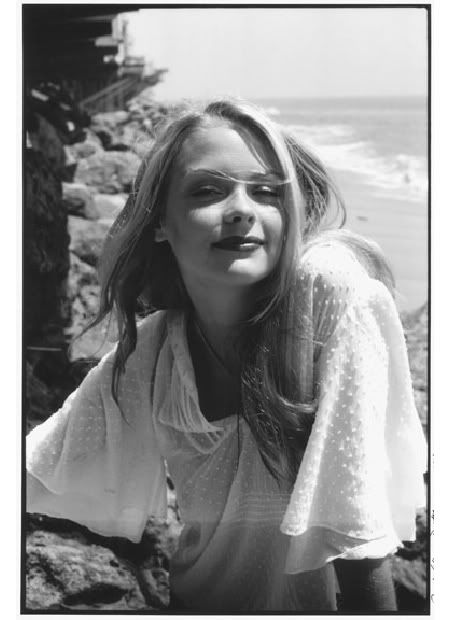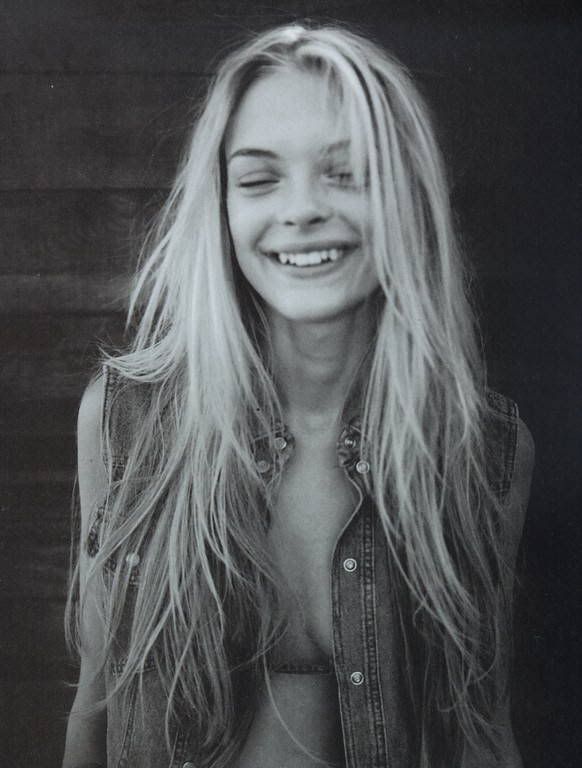 She has awesome teeth too! Just snaggly enough for me to like 'em.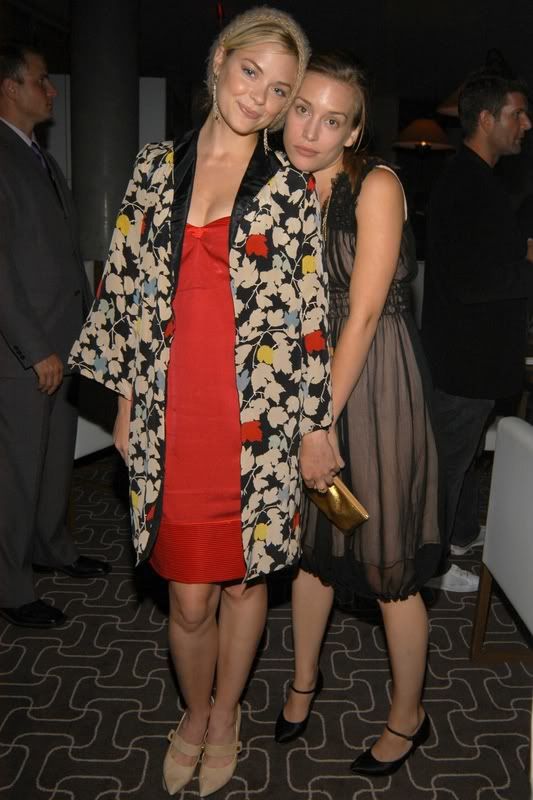 Great style, as well. I'm always impressed when models can dress themselves.
Her tastes are pretty awesome: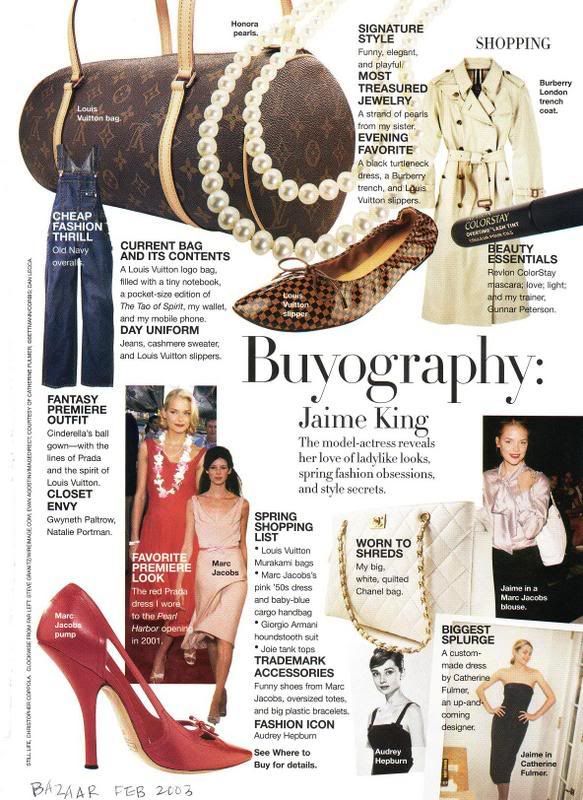 Drew Barrymore
recently premiered her movie
Lucky You
at Tribeca (DREW HAS BEEN EVERYWHERE THIS YEAR!) and she looked GORGEOUS in a green Galliano gown. I prefer laidback Drew to glam Drew, but she hit a homerun with this one: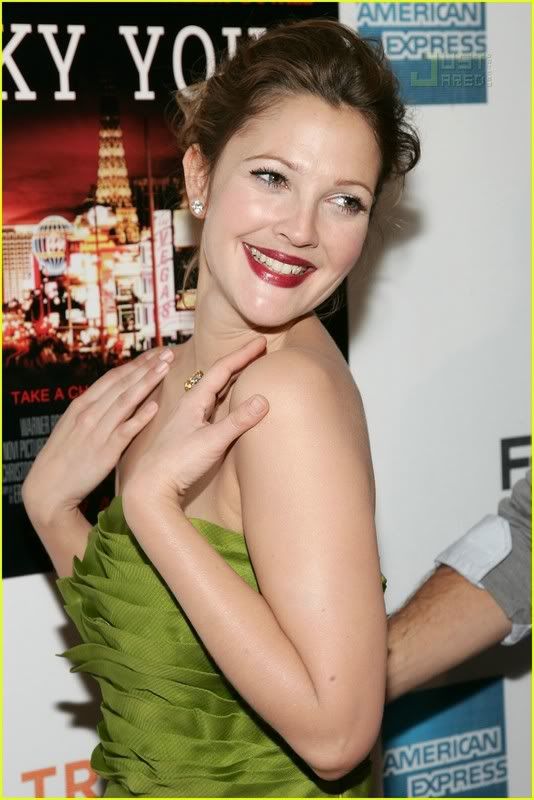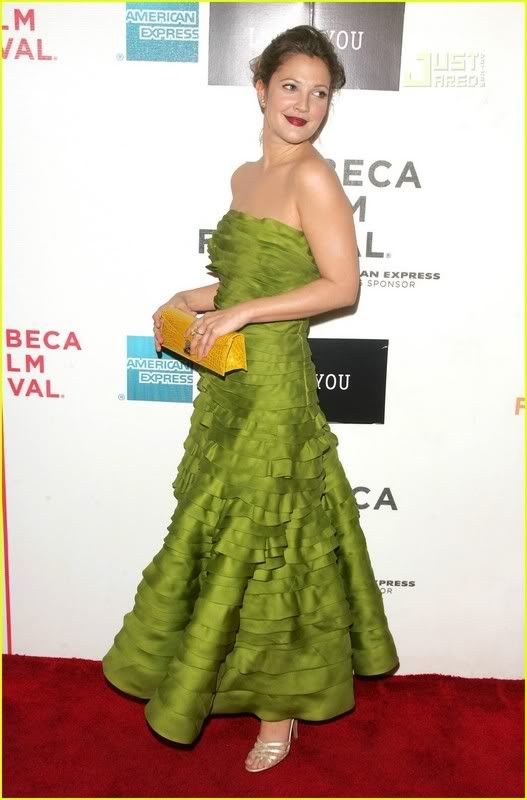 I mean, wow! Everything from the deep red lip stick to the yellow bag is perfect. Also, it trips me out that Drew and Galliano are such great pals. I consider Drew a normal girl, like myself or anyone off the street. Can you imagine going to Galliano's atelier and just hanging with him? Crazy! I wonder what they talk about.
I don't worship
Kate Hudson
or anything, but once in a while I am pleasantly surprised. Take this hot little number she wore out recently: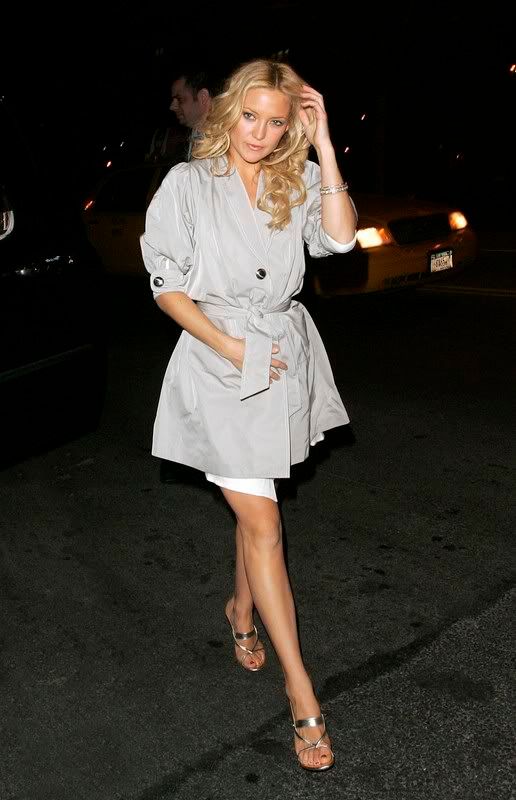 Such a cool outfit. She is workin' that trenchcoat thing.
I have an addiction to magazines of all kinds: music, movies, fashion, you name it. But my one policy is to not buy a magazine I can't read. I love looking at pictures, but it's really the articles that do it for me. Sometimes it's downright maddening, because I love French
Vogue
and I would love to read its articles (sometimes I can understand a few things here and there), but it is impossible. What I hate is how sometimes they'll have an article title in English but then the rest of the copy is in French. Such a tease!
One of my favorite features in the magazine is
"Une Fille, Un Style"
because they profile different women (or sometimes gay men) and talk to them about their fave movies, music, outfits, and so on. I am a nosy bitch and I love reading about other people's obsessions. Here are some of my favorites:
SHALOM HARLOW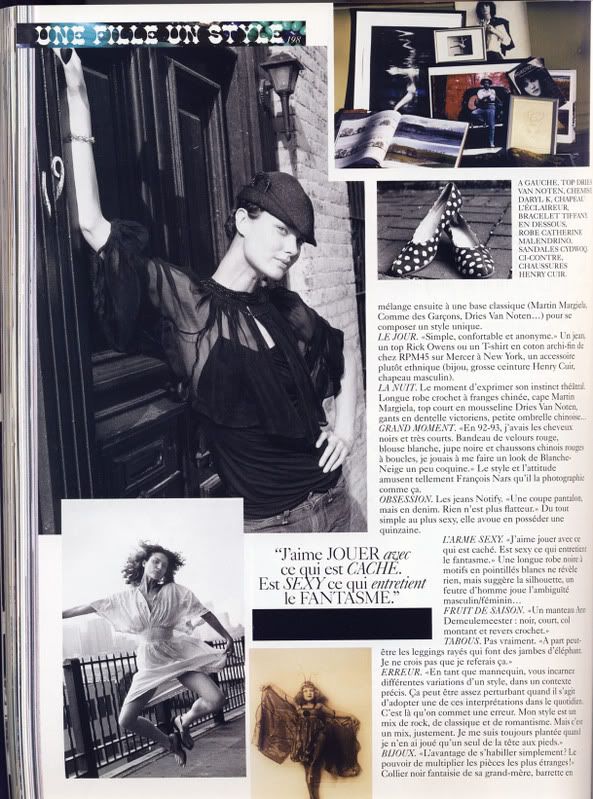 How gorgeous is she? Ever since I was a little kid glancing through my mom's magazines, I've always thought she was the ultimate. What a versatile model. What a face! And she's a pretty decent actress, too. I loved her role in
In & Out
. She seems like she has great style: very laidback, very quirky. A winner!
LOLA SCHNABEL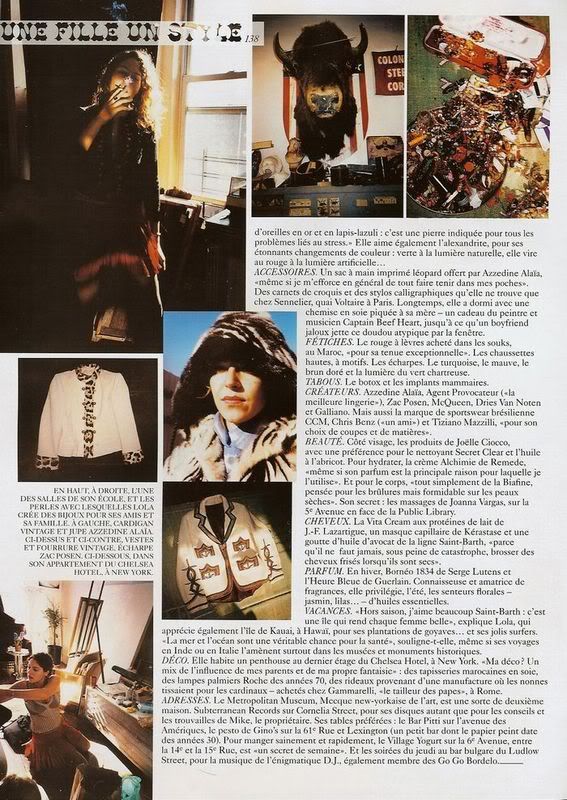 I'm obsessed with the Schnabels.
Julian Schnabel
is one of my favorite artists. One day, when I'm older and have a place of my own, I want to decorate my walls with some of his broken-plate paintings. I think his portraits are gorgeous. His films are also among my favorites: who can forget
Basquiat
or
Before Night Falls
? I love him so much because he's Spanish and Jewish, and thus a guaranteed family man. Just like
Francis Ford Coppola
, he involves his family in everything he does. He reminds me of my parents' Dominican friends: always dancing, eating, and celebrating something.
I also have a lot of respect for both his ex-wife (
Jacqueline
Schnabel
, a true woman of style and former
Alaia
buyer and seller) and current wife (
Olatz
, who makes the best bedding in town... and I can vouch for that because my aunt is obsessed with her sheets). They're both great ladies.
Oh, and next we have the kids.
Lola
, who is profiled up top, is an artist, photographer, and
Zac Posen
muse. She used to date that guy from
Lord of the Rings
(I always blank on his name, but he is the hunky king or something).
Stella
, the middle child, is an art dealer and one of the coolest society girls. (She is also the ex-fiancee of one
John Frusciante
, ahem.) My absolute favorite, however, has to be the man of the house,
Vito
, who is like 20 and owns his own art gallery in Soho. Crazy! He seems like a smart kid.
Nothing but love for those Schnabels!
CECILIA DEAN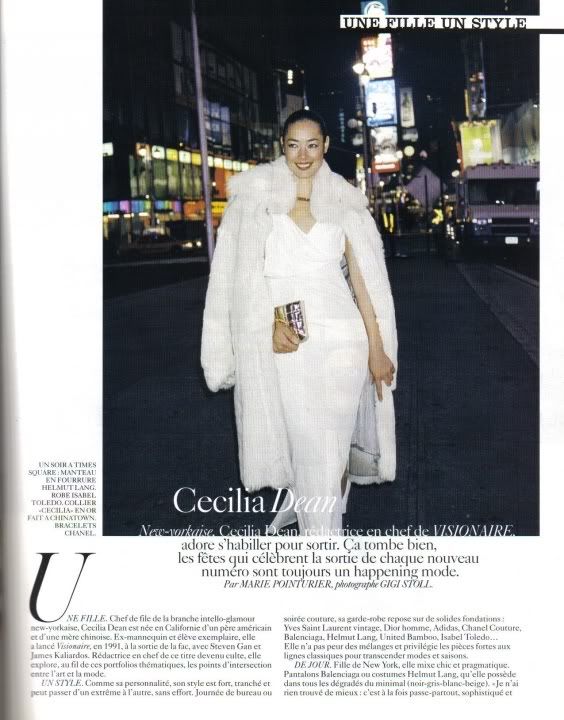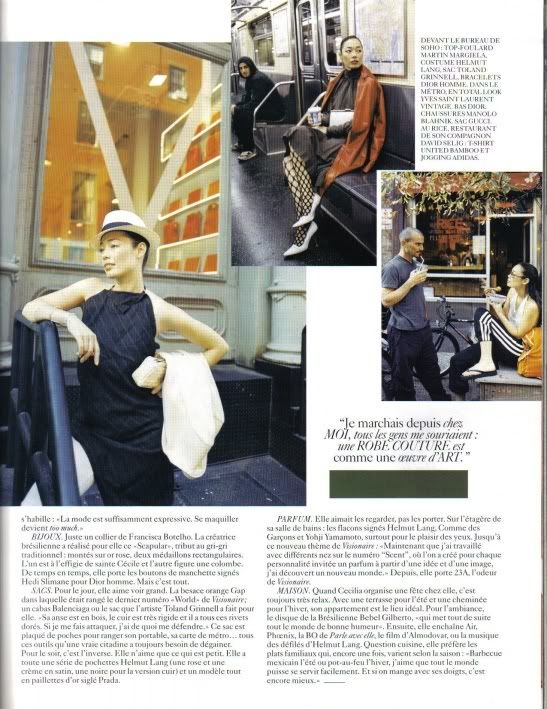 A friend of mine used to work for
Visionaire
, that intimidating fashion publication, back in the '90s and tells me all of these crazy stories about Cecilia Dean. I mean, when she applied to work there, she had to send her resume to Cecilia in a portfolio-esque leather binder. That's hardcore.
I have all the respect in the world for Cecilia, though. Sure, she may look like she has never had to lift a finger in her life, but she has worked her ass off for what she has and has made a unique mark on the publishing world in the process.
Visionaire
can be a bit grandiose at times (sometimes I'm like, straight-up, "What the fuck am I reading?"), but I admire all the work that goes into it. It only comes out a few times a year and it is an expensive endeavor, but one that feels like an absolute treasure when you finally hold it in your hands.
JADE JAGGER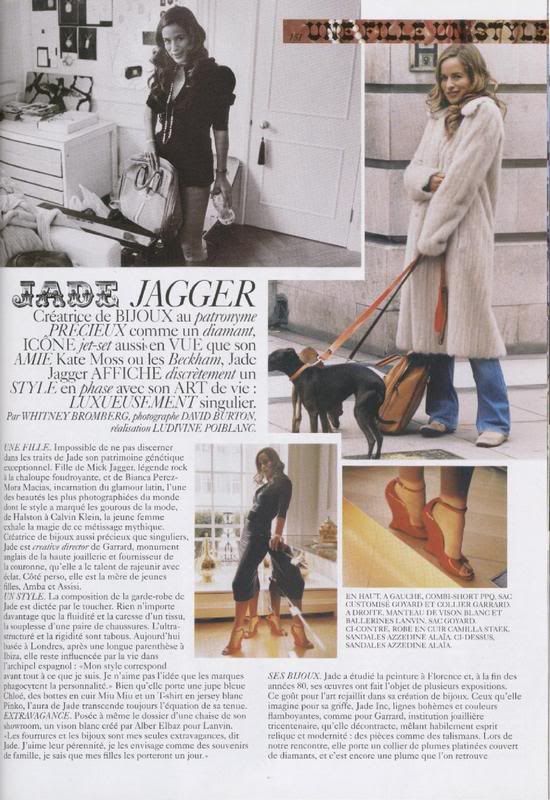 When I told you I loved those Jagger children, I wasn't lying. I once read that
Andy Warhol
, who was great friends with
Mick
and
Bianca
, said Jade was his favorite Jagger because he loved to color with her. How cool is that?
And how cool is this:
Ashley
and
Mary-Kate Olsen
with
Lizzie Jagger
, Jade, and
Theodora Richards
. Children of privilege... how nice life must be.
ZAC POSEN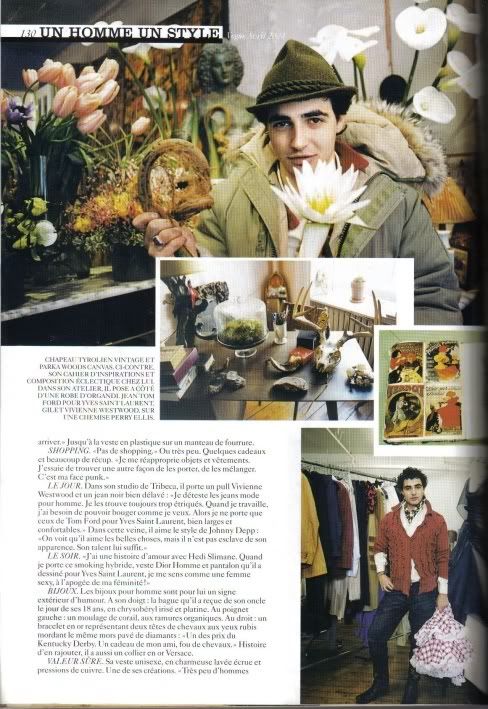 Oh, Zachy. No matter how shitty some of your outfits look, I will always love you. You know how some people say "My first fashion crush was
Marc Jacobs
," and others say "
Phoebe Philo
got me into fashion?" Well, in some weird way, I credit it all to Zac Posen. I remember
Natalie Portman
would exclusively wear his stuff to premieres and I always thought she looked so elegant but not stiff. Everything was so age-appropriate. Clearly, he designs for a woman's body. Plus, he's so debonair! I want him to be my best friend.
Speaking about best friends, how amazing would it be to have
Azzedine Alaia
design a dress for you? I would die.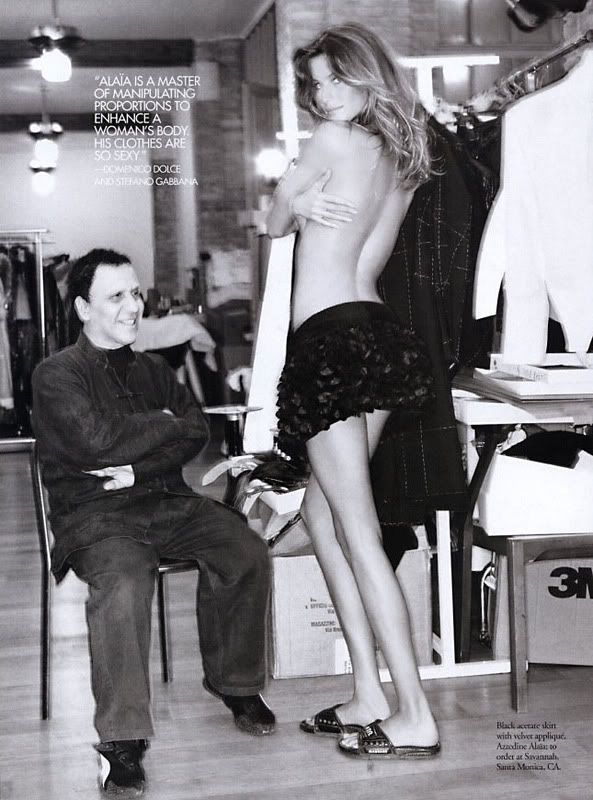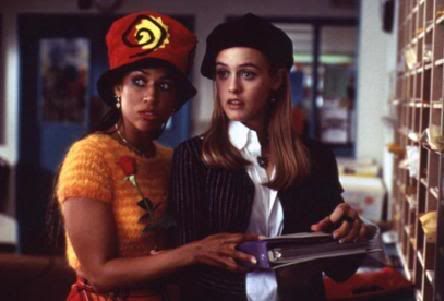 My first introduction to Alaia was in 1995, when my virgin eyes went to see
Clueless
. The victim of a mugging, Cher Horowitz (Alicia Silverstone) utters these unforgettable words:
Mugger:
"Get down on the ground!"
Cher:
"Oh, no. You don't understand, this is an
Alaia
."
Mugger:
"An a-what-ta?"
Cher:
"It's, like, a totally important designer."
Mugger:
"And I will totally shoot you in the head. Get down!"
Alaia is often called "The King of Cling" for his sexy, body-hugging dresses. I love his designs because they're basically Versace sans the tackiness.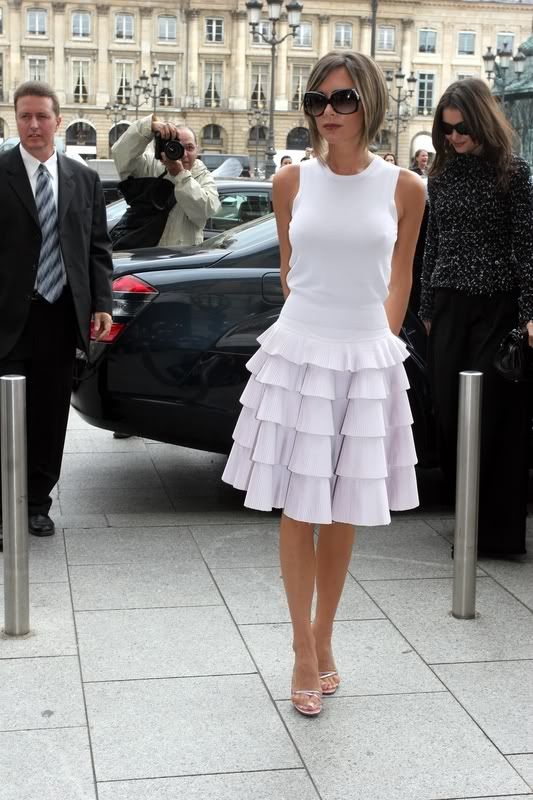 Even
Posh Spice
looks sexy in an Alaia!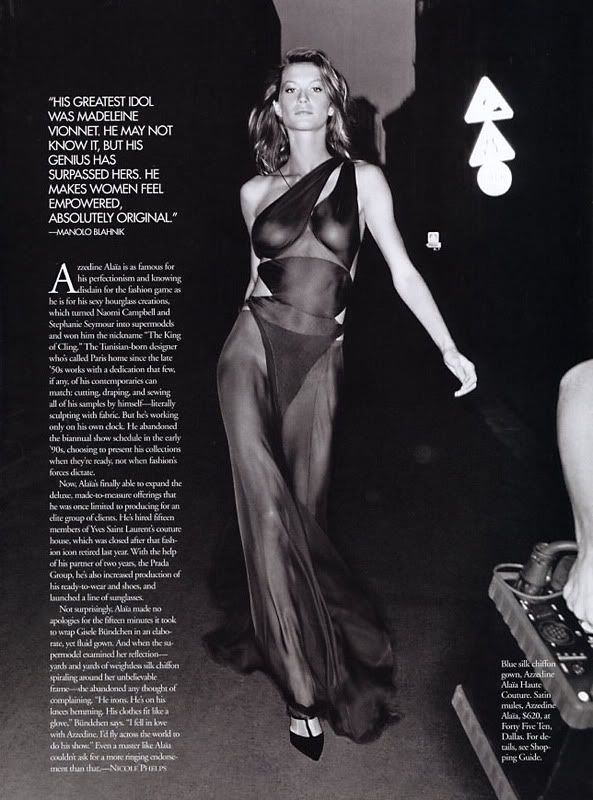 Spot the supermodels! (For the record,
Naomi Campbell
was Alaia's favorite mannequin. He would make dresses on her body!)
Summer plans:
Last summer, I was very much a jeans and T-shirt girl. I think that's what I am at heart. I can't be any more interesting, but my goal this summer is to put some more effort in and add interesting accessories. I'm not a loud dresser; I'm very plain. But I feel that with the right accessories, you can look as current or old-fashioned as you want to.
My style inspirations for this summer are these lovely ladies: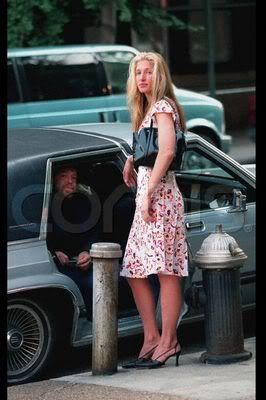 The late, great
Carolyn Bessette Kennedy
, who could rock a floral sun dress like no other.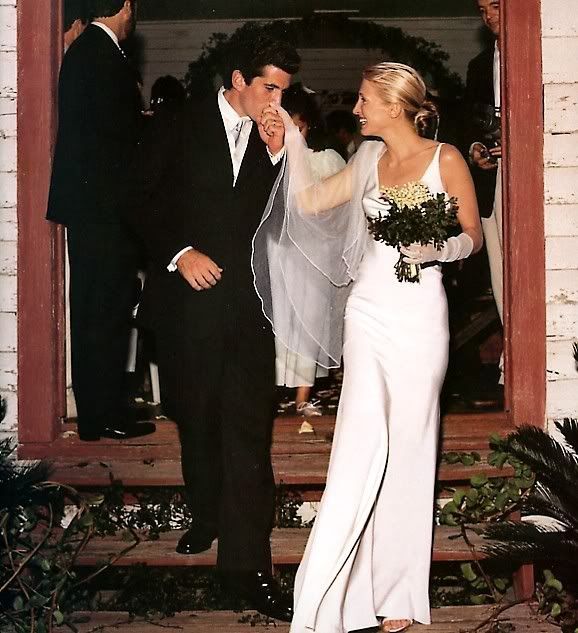 Her wedding dress was gorgeous. I'd love a similar design; I feel like most brides overdo it. However, if you do go all out, may I suggest
Grace Kelly's
wedding dress? GOOGLE IT, it's amazing.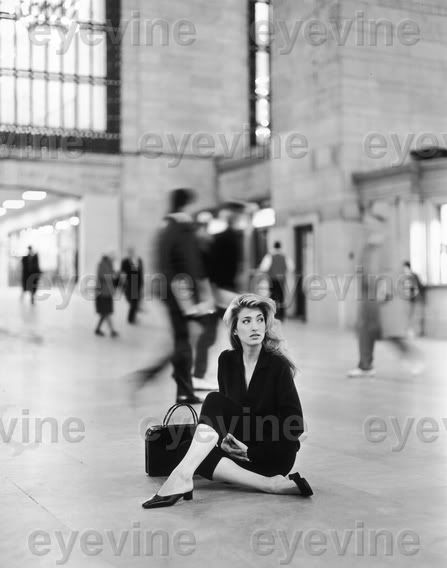 I love this photo. She's so serene, like a deer caught in an interstate traffic jam.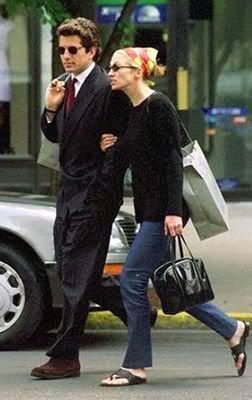 The bag, the shoes, and the headband are all nice touches.
Can I tell you guys how much I adore
Bebe Buell
? She's
Liv Tyler's
mom and one of the world's most famous groupies (although she hates that term). Seriously, she's been with every major rock musician under the sun, from Mick Jagger to
Elvis Costello
to
Rod Stewart
(and of course,
Todd Rundgren
and
Iggy Pop
and
Steven Tyler
). I find it so cool that she's just this mild-mannered lady from Virginia who ended up living out her rock & roll fantasies all over the world. (By the way, Penny Lane in
Almost Famous
is based on her.)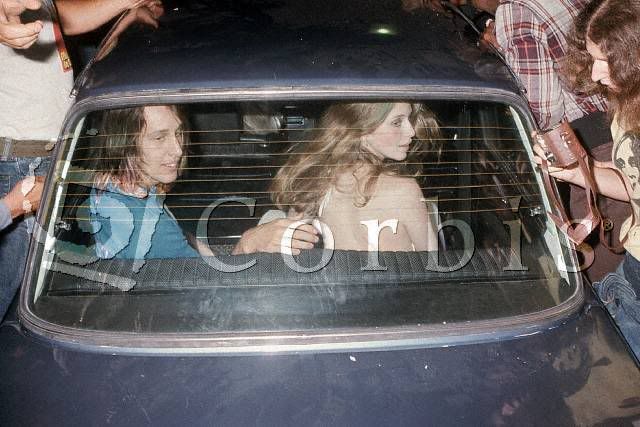 With Todd in the '70s; exiting Studio 54, I'm sure.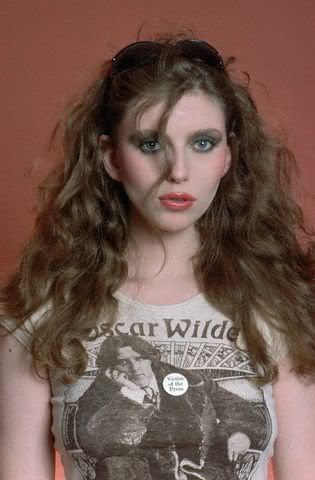 Must get that shirt. I think every girl goes through an
Oscar Wilde
phase at some point.
How in love does
Jessica Stam
look lately? It almost makes me gag.
Here are Stam and
DJ AM
on her birthday: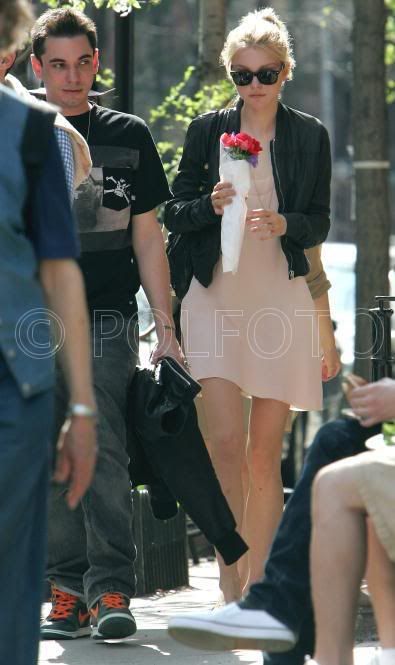 He looks absolutely smitten. Can you blame him?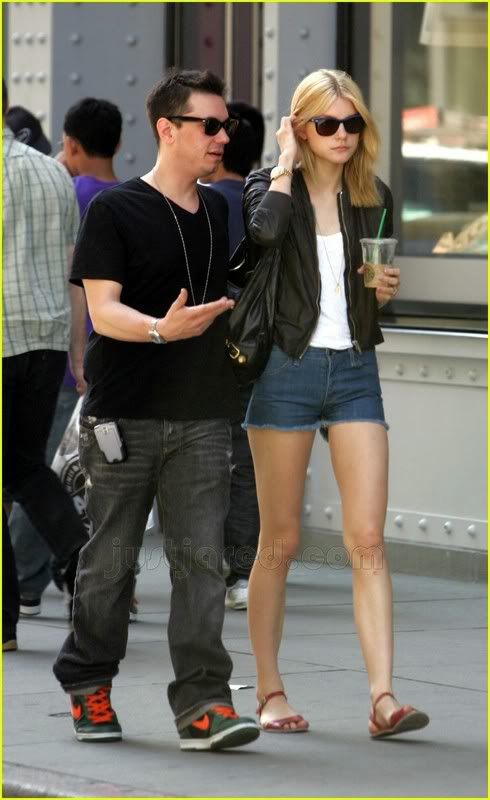 I remember that Stam used to have horrible, horrible fashion sense. Backstage, you'd get
Caroline Trentini
looking awesome,
Daria Werbowy
looking gorgeous, and then awkward-duckling Stam in like, jeans and some ratty T-shirt. Lately, her style has been improving. I'm in love with her leather bomber jacket and red sandals!
And to conclude this post...
Anna Wintour
was hot...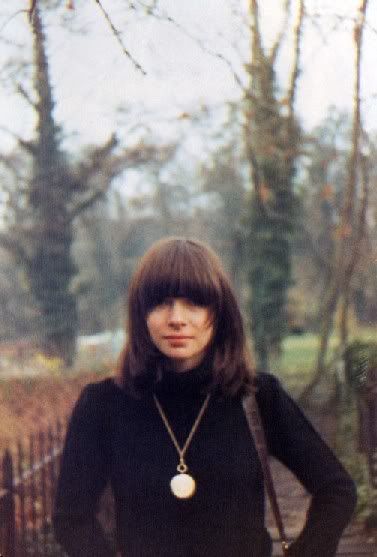 ... a long, long time ago!